Former Strathallan School pupils Matt Fagerson and George Horne both have very fond memories of their time at the school and kindly gave up some time this week to chat to Head of Rugby Andrew Henderson.
Last week Mr Henderson was in conversation with two other FPs - Zander Fagerson and Jamie Ritchie - and the pep talk from their former coach clearly worked because the duo then went on to help Scotland's rugby team defeat England at Twickenham for the first time in 38 years last Saturday.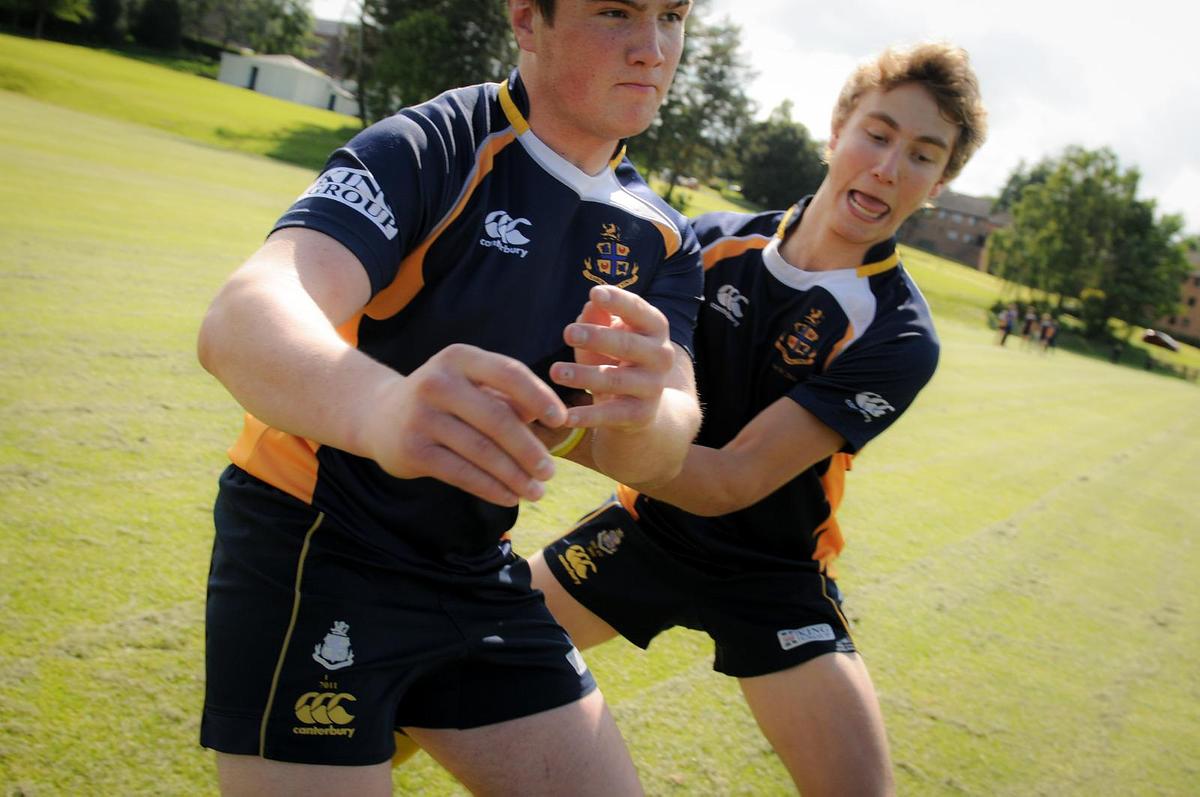 No.8 Matt, tighthead prop Zander's younger brother, also played in that Six Nations match and they were both key along with back-row Jamie as the Scots returned north with the Calcutta Cup and an opening-round Six Nations triumph after it finished 11-6.
Unfortunately, Jamie has picked up a slight hamstring injury and misses this coming Saturday's round two match behind closed doors against Wales at BT Murrayfield, but Matt and Zander are starting again.
Many observers believe Matt, the 22-year-old who plays his club rugby for Glasgow Warriors, had his best game in his 10 international caps to date against the English and cannot wait to see what is to come next.
"Scotland are often the underdogs going into big games against England, but the belief in the squad now is excellent and we were going down to Twickenham to win, that was the bottom line," Matt said as he looked back to last weekend's match.
"We believed in ourselves, we wanted to lift the nation and that spirit helped pull us through against a tough opposition.
"We have had lots of messages afterwards which showed how much it meant to people watching on television back home and now we want to build on that and back it up against Wales."
Twenty-five-year-old scrum-half George played for Scotland at the World Cup in Japan in 2019 and his most recent of 14 caps came against Georgia in October.
Sadly, the livewire player, who plays his club rugby alongside Matt for the Warriors, is currently injured, but he has reported that rehab is going well.
"I had an operation on my foot about five weeks ago now and things are coming along nicely, I am back doing rehab and strength & conditioning work and I should be able to play in another seven or eight weeks," he reported while on the Zoom call titled 'Strathallan to Scotstoun' with Matt and Mr Henderson.
Fond memories of Strath
Despite having left school a few years ago now, Matt and George have kept in touch with Mr Henderson and other teachers and always return when they can to speak to current pupils.
And although they were speaking to current pupils remotely this time, the smiles on their respective faces lit up when they were asked about their own schooldays.
"I came to Strath in my fourth form, my older brother Zander had already been there for a couple of years and I found it quite an easy transition," Matt, who played club rugby for Glasgow Hawks before the Warriors, said.
"My fondest memories come from things like house basketball, it was always a keenly fought affair, while just being around the place and having so many opportunities on the doorstep was amazing.
"I obviously played rugby, a bit of football, tennis and I wasn't the best at hockey so I was put in goals!
"There was so much going on and the balance between studying and sport really helped and we were able to use the gym in our free periods and things like that."
George, who has played rugby since school for the likes of Currie, Hawks, London Scottish and the Scotland Sevens team, states: "There are so many fond memories from my time at Strathallan, I just tried to throw myself into everything.
"I loved my time at the school, there is a lot going on and I just tried to take advantage of all of the sporting opportunities available in rugby, tennis and hockey to a lesser extent.
"My fondest memories game on the rugby field, in my last couple of years at the school we had a really good team which was a pleasure to play in.
"Day to day life at the school was really good, we made so many good memories with our friends and I look at the content now the school is putting out regularly on Instagram and Twitter and it brings back some great memories."
There will be bumps in the road, but work hard and rewards will come
Although Matt and George are now international rugby players, the road to the top has not always been a smooth one, but via the Zoom chat they gave some great words of wisdom to current pupils who could have a potential future in top-level sport.
"One of the main things I would say to younger players coming through the school now is that if you don't get picked for an age-grade team then don't worry," Matt said.
"I missed out on being selected for [Scotland] under-16 at first and it won't always be plain sailing to get to the top. There will be a few bumps in the road, so don't give up.
"Players like Scotland stand-off Finn Russell weren't picked up professionally until they were 20/21, but if you keep working hard you will get the rewards."
As mentioned, George is currently injured while he also suffered an injury at school which led to a lay-off.
"At school playing football I managed to break my ankle and it was a couple of weeks before Scotland under-18 rugby started that year so I missed all that," he recounts.
"Injury is a setback, but it taught me things and you always can come back better.
"I'd also say to youngsters to not just play one sport, but play all of the ones that you enjoy and you can take things from there. If you are having fun and putting in the hard work then good things will happen."
The big one: Matt's donut of choice…
Throughout the hour-long chat some great questions came in from those watching and the duo gave excellent insight into many topics from school life and beyond.
Of course, the most important question of the video conversation came from the audience when they asked Matt what his favourite doughnut is?
Without even a second to pause for thought, he said: "The Biscoff Donut from Krispy Kreme."
And if Matt and Scotland make it two wins from two in the Six Nations this Saturday, then who knows the coaching staff may even allow the No.8 to have one as a treat!
Scotland v Wales in the Six Nations kicks-off at 4.45pm on Saturday and is live on BBC
The school would like to thank Matt and George for their time, they are both brilliant role models and at Strathallan we are proud of them.
Remember you can watch the video of Jamie Ritchie and Zander Fagerson in conversation with Director of Rugby Andrew Henderson last week here:
And you can watch the whole video of Matt Fagerson and George Horne here:
- By Gary Heatly