We're delighted you're considering Strathallan School for your child.
We know choosing a new school for your son or daughter can be a daunting task. Our aim is to make the process as smooth as possible and do everything we can to help you make the right decision for your child.
By choosing Strathallan, you're embarking on a journey which will provide your child and family with treasured memories and friends for life. Our global community of parents, grandparents, staff, pupils and alumni is something we're immensely proud of, and we look forward to welcoming you too.
How to apply
Here's how our admissions process works.
Step 1 - Make an admissions enquiry
The first step in our admissions process is to fill out an admissions enquiry form to tell us a bit about your son or daughter. We'll then follow this up with a phone call or email to discuss how Strathallan can meet your child's needs.
The following table details the age and year group equivalents for Strathallan and the Scottish and English education systems: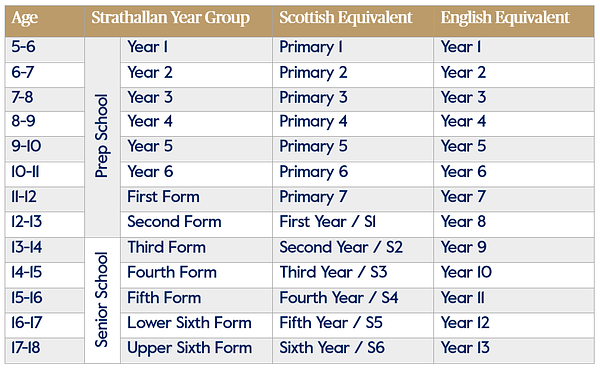 Step 2 - Visit us
Experiencing Strathallan for yourself is an important part of choosing your new school and there are plenty of opportunities for you and your family to visit us.
We hold open mornings throughout the year where interested families can take a tour of the school, speak to our staff and pupils, and see classes in action.
Outside of open mornings, interested parents and children are welcome to join us for an individual visit. There are also options for children to come for a taster day or overnight stay to enjoy the full Strathallan experience.
Find out more about visiting us.
Step 3 - Connect with us
You can follow us on Facebook, Instagram and Twitter, and sign up for our e-newsletter to keep up to date with our latest news and learn about daily life at the School.
Step 4 - Register your child
If you decide Strathallan School is the right choice for your child, the next step is to register them.
This incurs a fee of £100 and, once submitted, we'll ask for their school report and begin the formal admissions process.
Register your child with Strathallan School
Step 5 - Accept your place
If your child is offered a place with us we'll send you a Parental Consent and Admissions Agreement for you to sign and formally accept your child's place.
Following your acceptance, you'll receive joining details and all the information you need to start planning your child's first days and weeks as part of the Strathallan family.
---
Contact us
Contact our Admissions team if you have any questions or would like some more information about our admissions process:
Why not register for our next Virtual Open Morning or request your copy of our latest prospectus today